On Tales from the Trails of a Rock 'n' Roll Bus Driver …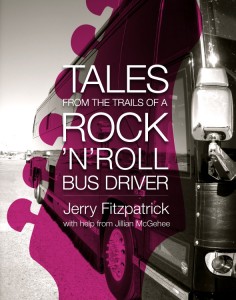 "This book is a must read for anyone who has an interest in what goes on behind the scenes in the concert touring business. Jerry has worked with some of the most successful talents of our time and has captured in his own unique style, the camaraderie, humor and complexity of being on tour and on the road. This is not just a book about the music business, though. Jerry has been able to weave his own life story into these pages, and the reader will come away with a renewed belief in the invincibility of the human spirit."
– Dana Darrow, a New Mexico LISW and artist
"I loved it!!!! Great stories and insight to a career you never really think about. Great reading, Jerry."
– Becky Daniel, reader in North America
"A must read! No one has documented the rolling commanders of the Star coach elite and Jerry's done a terrific job of covering the details without getting sued for libel or slander by any of his impressive passenger roster! Get it!"
– Marc Selig, Right Side Management/Left Side Productions
"If you want to know the truth behind the scenes, read this book. Unless you were there yourself, this is the closest you'll ever get to what actually happened. For over three decades, Jerry has taken care of the best, and worst, people in the music industry. Without Jerry's professionalism, and those like him, nothing rocks or roll."
– Craig "Vlad" Sherwood, tour/production manager for many bands including Depeche Mode, Foreigner and Siouxsie and the Banshees
"After having read a little spiel about this book, I met the writer thru cyber-space via a Facebook related site… a site that joins those of us who have spent a little, or a lot of time behind the wheel of a "Show Coach"… or a "Movie Star Bus" as the truck drivers know us. As for me, my windshield time was short and not so glamorous compared to Jerry Fitzpatrick, who has driven for some of the largest and most successful touring acts to ever take the American and Canadian stage. Whatever you wish to call us, we're the guys you see behind the steering wheel if you happen to catch up to an 'entertainer coach', as we're more commonly known, while transporting the most precious cargo on anybody's tour… the people! Whether you're carrying crew, band or the star of the show, the goal is always the same… arrive safely and on time. Jerry Fitzpatrick has excelled in that area, but he has also excelled in the added responsibility that comes with the job. As a show bus driver, driving the bus is usually the easiest part of your day. Dealing with the needs and egos of the 12 to 15 passengers that you carry can be a vaunting task, as Jerry so capably explains in this memoir.
But as you will read, the writer goes far beyond what's required to tell the story of 'Jerry Fitzpatrick, busdriver'. He opens himself up fully while exposing that that's in all of us… the good, the bad and the ugly. He holds nothing back and gives you all he's got… and he is to be commended for his transparency and total honesty. I highly recommend this book to anyone who needs to hear the story of an honest man, and how that man became a "Rock 'n' Roll Bus Driver"!"
– Mark Stapleton, reader in North America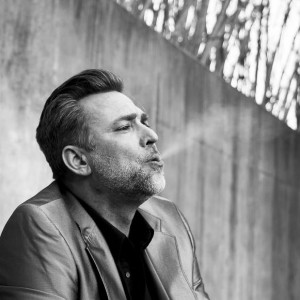 On The Singer, The Lesbian, & The One With The Feet: 69 Bipolar Love Poems …
"I remember only too well being formally introduced to poetry in high school. 'And what is the poet trying to tell us?' my English teacher would ask. I honestly had no idea. Give me math, give me science, but don't ask me to explain why someone writing about flowers is not talking at all about flowers. Over the years I read more poetry and even went to poetry readings from time to time. Most of these were not as difficult to interpret, particularly when the words were being shouted from the stage, sometimes quite fiercely. Yet, most of the time I still didn't feel that I was really getting it the way much of the audience seemed to be. I figured it was just the concrete part of my personality.
Then this Outlaw poet, Justin Booth, showed up in Hot Springs at Maxine's for poetry night. About a week later, his new book came out. I decided to order a copy and check it out. I read lines like 'her kisses tasted like lipstick and vodka' that I enjoyed so much I quoted it that same night.
I found myself turning the pages quickly, curious to see the next offering, then going back to re-read the previous poem one more time. Mr. Booth captures the beauty, the sorrow, the joy and the resignation that we have all experienced in our dalliances with the people who cross our path. Buy a copy of 'The Singer, The Lesbian and The One with the Feet: 69 Bipolar Love Poems'. It will remind you of people you think of fondly and others that you would like to forget. And you will love every word of it."
– Angela Rose, Hot Springs, Ark.
"I met Justin Booth in downtown Little Rock in the summer of 2012 while I was walking to work at the Arkansas Times, the newspaper I've been with for 12 years. He was homeless at the time, strung out on heroin, red-eyed and haggard, hawking copies of his chapbook, Hookers, Ex-Wives and Other Lovers for $5 to anybody who looked like they might be able to spare few bucks. They were cheaply done, printed on plain copier paper and stapled crooked down the spine. But I happened to have a five dollar bill and have never been able to turn down a book, so I took one. Within a block, reading as I walked, I was convinced that he was one of the best poets the State of Arkansas has ever produced. I still believe that today."
– David Koon
"Justin Booth writes about the places the heart sometimes wants to forget or ignore and in doing so he brings light to places where the reader can find tenderness and passion amongst the lost men and women of this unforgiving world. Such is redemption. Mark his words. He brings us into the fire and beyond."
– Brendan McCormack, Phuckle.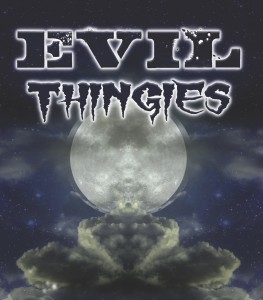 On Evil Thingies by Rickie Lee Reynolds *spoiler alert
First let me say that one sign of a really good story is that it really brings out emotion in the reader. I have been at the beach all week & couldn't write until now. You said you hoped I like it … well, I LOVED it! An awesome read, and in true form, it brought out emotion in a big way for me. I am closing in on 60 years old, over 6-feet tall, long scraggly beard & a ton of tattoos. And as everyone assumes, I love my Harley. But one part of Evil Thingies, and I am not ashamed to admit it, made me cry like a baby. Being the oddball that I am, the possibility of death of the humans or of the universe didn't affect me much at all. But that little dog …
And if you would honor me by reading on a little bit, I'll tell you partially why.
About 19 years ago, my wife and I went to a few yard sales every Saturday. One particular Saturday, some folks were giving away 6-week-old puppies at one of the sales. The mother was a full-blooded Miniature Pinscher, but the father was some sneaky neighbor's dog of an unknown mixture of breeds. One lone puppy had the black & brown colors of what one normally associates with a Min Pin. I wanted that little feller so bad! The owners said his kids wanted to keep that one, so we decided not to get one. The next day, we got a phone call and the man said they had decided to let that little feller go as well, and he was mine if I still wanted him. I was there within 15 minutes to bring my buddy home. They had named him Logan, but we had already picked a name for him of our own … Barney. Anyway, Barney was my best buddy for about 12 years when he had what the doctors said was a stroke. They wanted to put my buddy to sleep & I almost hurt the guy that suggested that before I caught myself. They did all they could, and $5,000 later he got to come home, but his back legs still would not work. I carried him outside to use the bathroom & held him up as he did what he needed to do. After about 2 weeks of this, he got to where he could stand on his own, and got stronger every day. He regained almost all of his strength in a short while and was the same old Barney for about a year afterwards. Then he lost his hearing completely. His health slowly got worse over the next couple of years and he finally got dementia & couldn't figure out so much as even how to back out of a corner, I'd have to help him. He seemed happy otherwise, but had spells of aggressiveness, probably from confusion. Then he had another stroke, worse than last time. The docs said there was nothing they could do, and I knew it was time to let him sleep. Just before the doc came in with the injection, Barney pulled himself up closer to me, and placed his paws on my shoulders like he was hugging me. I saw the old Barney in his eyes, and he seemed to be telling me it was OK, he was ready. He went to sleep that last time with his arms hugging my neck, and me crying like a baby. I cried more for that dog than any human I have ever lost. Hardest thing to do I have ever done in my life, and I have done plenty.
Three months later, my neighbor had two female Min Pins & they occasionally had them bred and sold the puppies. I didn't know it, but one of them had been pregnant and had just one single baby, odd for those dogs. It was a boy, born on September 11th. Three months after Barney went across the Rainbow Bridge, my neighbors knocked on our door. We had decided to not get another dog, as Barney could never be replaced. Well, as we opened the door to see who it was, they came inside and placed a tiny brown and black puppy in my hands. They wanted me to have him as they knew what Barney meant to me. My wife held him for a second too, and of course we both melted. He is my buddy, especially close now that I am disabled from working and am home all the time with him. Barney wasn't replaced, Barney is right here with me as I type this, except he is a full-blooded Min Pin now, and his name is Diesel. If you have read this far, thank you brother for the book, and the tears, as I knew Killer would not die, just as Barney didn't. Awesome book. I'm not much of a reader, but I LOVED it! Can't wait for another book!
– Reader Roger Helms