We've been keeping up with author Jerry Fitzpatrick as he travels North America. Speaking of North America, we recommend you check out his multiple "Somewhere in North America" photo albums on Facebook. There are some interesting sights to see!
Jerry recently finished the 2012 Dave Matthews Band Summer Tour on the West Coast. He enjoyed a brief break at home before heading to Hershey, Pa., for Farm Aid. We had a Cowboy Buddha presence there, and it was a great day filled with great music and musicians, all to support family farming! You can read more about it at this site…
Here's a shot of the Hersheypark Stadium as the seats were filling up. Jerry captured the scene during his bus driver duties.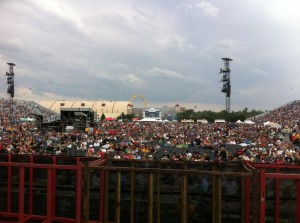 Stay tuned for more Cowboy Buddha news …
Happy trails!